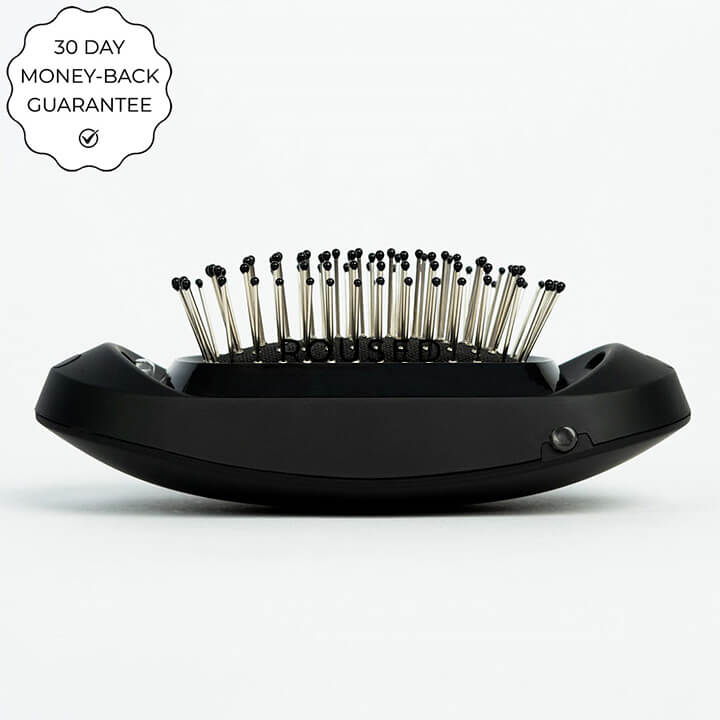 ${data.index + 1}/9
GET RID OF FRIZZ, FLYAWAYS & STATIC AT THE TOUCH OF A BUTTON
You spend hours prepping, blow drying, and styling your hair - only to have your perfectly smooth strands puff up the second you step outside.
You end up looking like a lions mane. Sounds familiar?
Our Pro Brush is the perfect solution without the hassle.
ALL BENEFITS AT A GLANCE
✓ Visibly shiny hair at the touch of a button
✓ Instantly removes frizz, flyaways & static
✓ Smoothens split ends by closing broken hair cuticles
✓ Better hydrated hair by sealing in moisture
✓ Minimizes heat damage by speeding up drying time
✓ Heavily reduces greasy hair & makes it shine
HUMIDITY- AND FLYAWAY-PROOF YOUR HAIR THIS SEASON
WHAT IS IONIC-TECHNOLOGY & HOW IT WORKS
The root cause of messy hair is the unbalance between positive and negative ions in the hair, caused by humidity, low temperatures, dry air, blustery winds, towel-drying or dry central heating indoors.
Our Pro Brush emits negative ions into your hair giving them back instantly the shine and smoothness they deserve.
NO HEAT BRUSHING THAT DELIVERS INSTANT RESULTS
THE LOW MAINTENANCE GIRL'S HAIR SOLUTION INCLUDES:
1x Pro Brush
1x FREE Velvet Scrunchie (Random color - Valued at $7.99)
1x User Manual
LOVED
BY PROFESSIONAL HAIRSTYLISTS
AS SEEN IN:
GET A FREE VELVET SCRUNCHIE & SAVE 50% OFF UNTIL MIDNIGHT!
✓ FREE Velvet Scrunchie (Random color - Valued at $7.99)
✓ 30 Day Money-Back Guarantee
✓ 50,000+ Happy Customers